Three lovely villages face onto the volcanic lake of Bracciano. All of them are worthy of a visit after a splendid walk along the shore of the long lake.
THE TOWN OF BRACCIANO
On the shore of the lake of the same name is a small charming town whose fame stems from the magnificent Castle of Orsini Odescalchi, known the world over for its spectacular beauty. Originally it was a small village of fishermen and peasants that could be traced back to the time of the Etruscans, but was granted by Pope Martin V to the Orsini family in 1419. For the more adventurous we suggest a very particular visit to the castle: rappelling down from the castle is a unique and thrilling way to enjoy the views.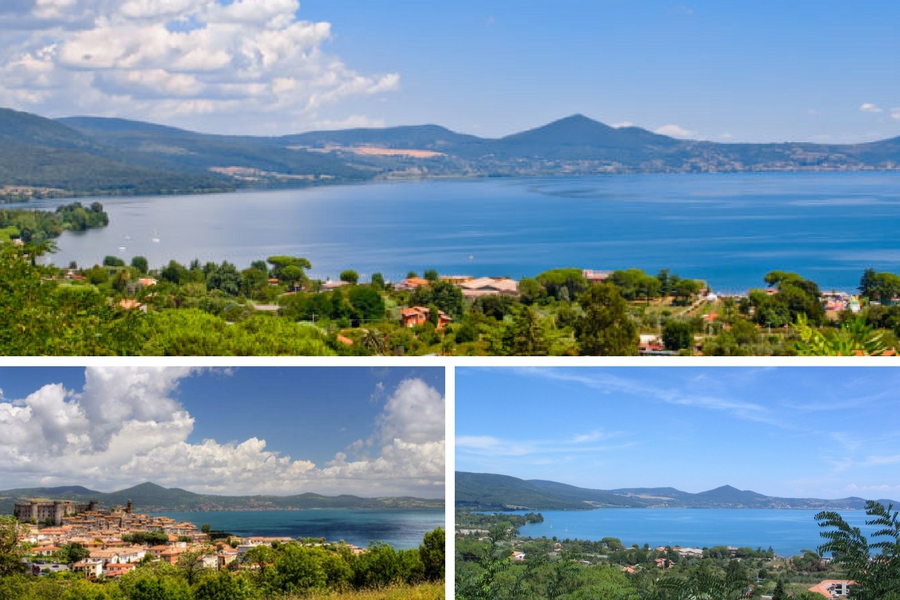 ANGUILLARA SABAZIA
The lovely little town of Anguillara Sabazia stands atop a peak that juts out into the Bracciano Lake. It is the destination of one of the classic fuori porta day hikes Italian city dwellers take to relax and enjoy typical dishes of fried pike and whitefish freshly plucked from the lake. A peculiarity of Anguillara is its natural spring water known as Clavdia (Claudia). It comes up effervescent from the spring, which still has the remains of the structures the Romans built to access the water.


TREVIGNANO ROMANO
This is a lovely small town where you can spend a few hours. Depending on the season you can take a walk by the lake, or ride a bicycle on the lakeside bike path, or just relax with some shopping in its small, refined shops. This town also has origins that can be traced back millennia to the city of Sabate. Nothing is left of that ancient city now except for the vast necropolis that spreads out over three kilometers behind the modern day town.

Not to miss:
An adventurous visit to Bracciano Castle
Pisciarelli and Castel Giuliano
The cheeses: pecorino romano, caciotta and ricotta
The 16th century gate of Anguillara
Lungolago di Trevignano Romano
The Etruscan Museum of Trevignano Romano
The Orsini Stronghold
Eating fried fish fresh from the lake
Visit three towns on Bracciano Lake and try a traditional dish with the day's catch of fish
Starting in Marina Santa Marinella the itinerary covers a total distance of 63 km
Marina Santa Marinella recommends:
In Anguillara Sabazia: the Fish festival (Sagra del pesce) in July and the Mushroom festival (Sagra dei Funghi) in the first half of October
Sports: There are many possibilities to practice sports for those who enjoy windsurf, hang-gliding or kayaking, as well as those who prefer a relaxing bike ride on the lakeside bike path.