The Oil road snakes through the heart of the High Tuscia of Viterbo, an area that has been dedicated to growing olives for three millennia.
Exploring this territory will lead to pleasant surprises, both for nature lovers who can get lost among the century old olive trees and for food lovers who can visit villages from another time where the pleasure of eating becomes an art.
CANINO
The journey into the culture of oil could not began anywhere else than where the product takes its name from, Canino. This town is on the edge of the seaside of the Lazio region, just 40 km from Viterbo. Monte Canino towers over this little town of Etruscan origin. The nearby necropolises such as in Vulci are testimony to this heritage.

TESSENNANO
From there you continue to Tessano, where the landscape is dominated by hills, olive orchards and vineyards and the people will make you feel at home. Legend claims it was founded by Ascanius, son of Aeneid, while historians state it was probably of Etruscan origin and served as a stopping point along the road that connected Tuscania and Canino in antiquity.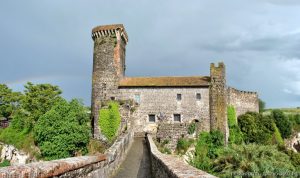 AN EXTRA VERSION OLIVE OIL LESSON
Between one zone and another we will have the chance to have introductory lessons in Extra Version Olive Oil. On the agricultural estate you will learn about the history, as well as the physical, chemical and organoleptic characteristics of the oil before being introduced to the production techniques and tasting of oil. The soil is predominantly tuff and relatively rich in nitrogen and this gives the oil intense aromas and flavors that can be appreciated on bruschette made for the occasion in an old farmhouse.
Not to miss:
The town of Canino
The town of Tessennano
The town of Arlena di Castro
The town of Tuscania
Viterbo
The lavender fields
Lake Vico and Lake Bolsena
Nepi, with the Borgia castle
Bruschetta with oil and crostini with porcini mushrooms
The thermal baths of Viterbo
The route includes a visit to two villages within the Canino D.O.P. Oil denomination and a visit to two prestigious presses in Tuscia.
Starting in Marina Santa Marinella, the itinerary runs a total of 120 km.
Marina Santa Marinella recommends you also visit the Sabina D.O.P. and admire the thousand year old Olive of Canneto Sabino, a living testimony of Lazio's vocation as an olive producer.
Discover the other tours of the Marina di Santa Marinella